Silk bedding is a natural fibre that's made from the cocoons of silk worms. The breathability and its super silky feel is what people love most. However, production costs are high because as many as 6600 silkworms are required to produce just 1kg of silk.
If your bedroom vibe has felt a little blah lately, why don't you slide into something more comfortable?
Silk Bedding Ireland
If your bedroom vibe has felt a little blah lately, why don't you slide into something more comfortable? Silk bedding is renowned for its outer this world smooth texture that not only feels incredibly soft and dreamy, but also reduces any friction on your hair and skin, so you wake up feeling (and looking) less rumpled.
Though silk sheets and silk pillowcases feel cool and luxurious to the touch, this lightweight fabric does tend to retain body heat, making it a good material for those who like to sleep in a cooler room, without bulking up with a ton of layers.
100% pure silk sheets & pillowcases will not only let you drift off into a dreamy deep sleep, but will enhance the vitality & metabolism of your skin cells whilst you are sleeping.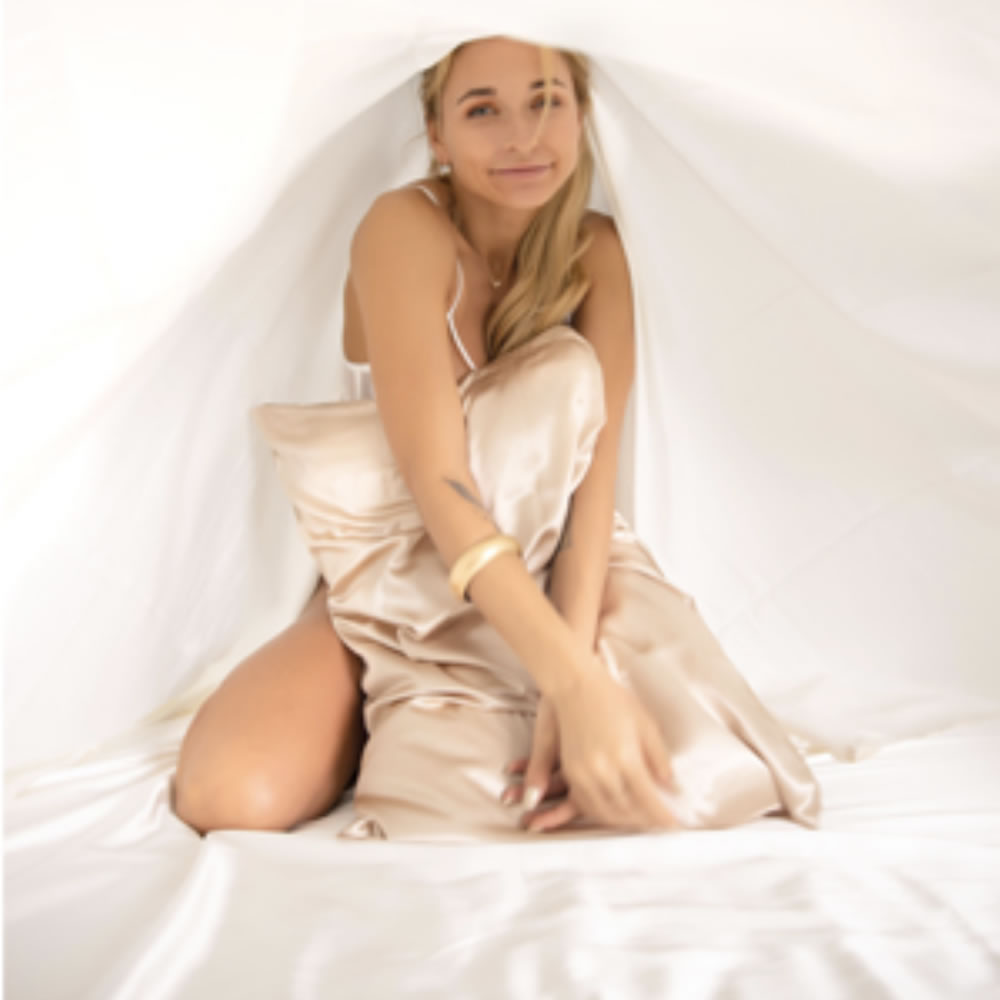 Using both a silk pillowcase & a silk sheet is an affordable luxury that should be part of every person's beauty & self-care mainstay.
Self-care is a hot topic these days, and so important, particularly given what is happening in the world right now. And we're all for it!
It's too easy to get caught up in helping others, taking care of your partner, parents, children and friends. Maybe you are focused on excelling at your job, advancing your career, and taking care of the daily to-do's.
With all of that and more piling on your "daily plate", too often you forget about giving yourself the care and attention you need. But it's those oft neglected simple acts of self-care that help us continue to be there for our friends and family and do more in the long run. Without them, we risk the chance of burning out.
At Flair Silk, we love to celebrate the beauty of self-care.
Our favourite way to invest in ourselves is, of course, with silk! But it's not just about having a luxurious and durable (healthy for you, healthy for the planet) bedding set or a silk pillowcase. Silk has the power to improve our mindsets, relieve stress, and improve sleep. Silk can boost our confidence and improve our self-esteem.
Silk Sheets & Pillowcases Can Boost Your Confidence
Silk is one of the world's most cherished textiles, making us feel comforted, relaxed, and beautiful. Slipping under silk sheets every night can be the easiest way to invest in your self-care each day by encouraging positive self-esteem.
Very simply, quality silk is an investment. It's not possible to find a set of high-quality sheet sets at your causal shopping center. You research to find the best quality silk, invest in this quality, and take good care of your silk. Giving yourself the gift of valuable silk is a profound way to tell yourself, you matter.
On a more physical level, wearing silk is an immediate confidence booster. Our silk nightgowns, robes, and pajama sets are designed to not only feel amazing, but look amazing, too. We use classic, tailored designs that are both comfortable and flattering. The feeling of silk on your skin makes you smile, because you feel like a million bucks.
Silk Improves Our Health
You may not realize it, but what's on your bed can make a difference in your health. Synthetic and manufactured fabrics can cause a wide range of problems like sweating, itching, irritation, and poor sleep quality. Instead, choosing natural fibers like silk can help you rest easy and improve your health overnight. Sleeping in silk helps you get the most out of your sleep in the most comfortable, luxurious way possible.
Silk Melts Our Stress
Stress doesn't stand a chance in the presence of silk. This fine fabric feels so comforting and soothing on our skin, we can't help but let our incessant thoughts or worries slip away. Slip into your favorite silk nightgown or robe at night after your busy day and enjoy some downtime.
Why not make silk a part of your evening routine to really turn up the self-care? Here's a few of our favorite ways to wind down after a stressful day:
Put on a comfortable silk pajama set.
Turn on your favorite relaxing music playlist.
If you're stuck, try writing down the three best moments of the day.
Enjoy a special treat like a chocolate truffle or a warm cup of a new herbal tea.
Do a face mask or other skin care routine.
Organize something mindfully, like your delicates drawer or a box of photos.
Do some light stretches.
Do a guided meditation for sleep.
Silk and Self-Care: A Beautiful Pair
Sometimes, a little indulgence can make an amazing change in your mental and physical health. We're not talking about fudge sundaes or a week-long trip to the spa. We're talking about using simple treats to benefit our body, mind, and spirit. Daily rituals that nourish the body and mind can make shifts for those of us who want to embrace living better, not faster.
Silk is possibly the easiest way to start enjoying self-care every day. Simply changing your bedding or treating yourself to a new silk chemise could be the first step to a whole new you